Our aim is to give our patients the highest possible quality of care, by ensuring excellence in all aspects of our practice.
We endeavour to provide patients with the best and most current treatments, methods, materials and equipment within our resource capabilities to ensure that the patients receive the high quality of service they have come to expect.
We believe that patients come first. Teamwork is highly valued and encouraged within the practice to promote a harmonious and productive environment. We hold great importance in ethical and responsible behaviour as essential to maintain the trust and loyalty of our patients and staff.
Our GP's have a wide range of special medical interests including:
Family Medicine
General check-ups
Preventative medicine
Family Planning
Pap Smears
Pregnancy tests
Vaccinations/Immunisations
Travel Medicine
Minor Surgery
Skin checks
Acupuncture – Dr Lynette Hatherley
InjuryNet – Dr Daniel Mann-Segal
Wound Care
& More
To find out more information about the services we offer at North Road Medical please click here.
For the convenience of our patients, we have Australian Clinical Labs Pathology collection centre on site. This service operates Monday to Friday, 8:00am to 4:00pm. Closed on Weekends and Public holidays. No appointments are necessary for routine pathology tests. 24 Hour ECG & Blood Pressure Monitoring & Spirometry are available by appointment.
North Road Medical is accredited by Australian General Practice Accreditation Limited (AGPAL).
Individual practices are assessed by AGPAL to ensure their performance meets or exceeds standards set by the Royal Australian College of General Practitioners.

North Road Medical History
Click each tab below to view the history of North Road Medical
1923
North Road Medical was established by solo practitioner Dr Bruce Hallows in 1923, and has been proudly serving the community of Caulfield South, Ormond and surrounding suburbs for almost a 100 years.
Pictured below is Dr Bruce Hallows-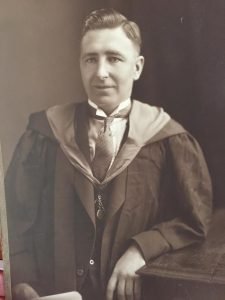 The Family Practice
1945
1953
Dr Marius Griffin
1979-1981
2017
2020- North Road Medical Today
Make An Appointment
Call 03 9576 9311