Our aim is to give our patients the highest possible quality of care, by ensuring excellence in all aspects of our practice.
We endeavour to provide patients with the best and most current treatments, methods, materials and equipment within our resource capabilities to ensure that the patients receive the high quality of service they have come to expect.
We believe that patients come first. Teamwork is highly valued and encouraged within the practice to promote a harmonious and productive environment. We hold great importance in ethical and responsible behaviour as essential to maintain the trust and loyalty of our patients and staff.
Our GP's have a wide range of special medical interests including:
Family Medicine
General check-ups
Preventative medicine
Family Planning
Pap Smears
Pregnancy tests
Vaccinations/Immunisations
Travel Medicine
Minor Surgery
Skin checks
Acupuncture
InjuryNet
Wound Care
& More
To find out more information about the services we offer at North Road Medical please click here.
For the convenience of our patients, we have Australian Clinical Labs Pathology collection centre on site. This service operates Monday to Friday, 8:00am to 4:00pm. Closed on Weekends and Public holidays. No appointments are necessary for routine pathology tests. 24 Hour ECG & Blood Pressure Monitoring & Spirometry are available by appointment.
North Road Medical is accredited by Australian General Practice Accreditation Limited (AGPAL).
Individual practices are assessed by AGPAL to ensure their performance meets or exceeds standards set by the Royal Australian College of General Practitioners.

North Road Medical History
Click each tab below to view the history of North Road Medical
1923
North Road Medical was established by solo practitioner Dr Bruce Hallows in 1923, and has been proudly serving the community of Caulfield South, Ormond and surrounding suburbs for almost a 100 years.
Pictured below is Dr Bruce Hallows-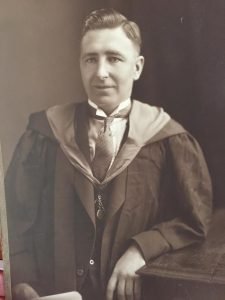 The Family Practice
From a young age, Dr Bruce Hallows (1899-1976) formed a passion and ambition for medicine. Encouraged by an occurrence where he sustained a laceration as a young child and receive expert medical care, he was inspired to pursue and study medicine so he could also serve the community in the same manner.
The son of a grocer, Bruce served in Australia's Armed forced in the First World War. Two years after graduating Medicine at University of Melbourne in 1923 he realized his dream when he opened the doors of his home at 409 North Road, Caufield South to serve the public as a General Practitioner.
At the time, the practice was surrounded by market gardens and nurseries. Droves of sheep would still occasionally be shepherded down North Road
Combining general practice with surgery, Dr Hallows would conduct his work at the practice as well as at people's homes as required.
He initially lived on the premises with two of his siblings with whom he also worked along with- Gladys and Sylvia.
Gladys also operated her own local general practice but was registered to work at North Road where she would assist in anaesthetising patients when Bruce operated. His other sibling Sylvia was also registered at 409 North Road, working as a midwife. Bruce's eldest son was born on the premises, but it is unknown if Sylvia performed the delivery.
Pictured below is Dr Bruce Hallows and colleagues-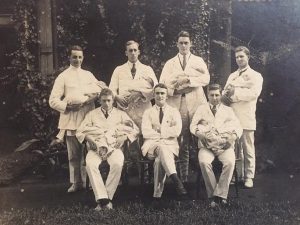 1945
In 1934 Dr Bruce Hallows travelled to Scotland and received his fellowship from the Royal College of Surgeons (Edinburgh).
In 1945, after 22 years since establishing North Road Medical, Dr Bruce Hallows retired from general practice to focus on surgery and the practice was transferred to Dr James Gibson.
Dr James Gibson, who took over the practice was an experience general practitioner like Dr Hallows and had graduated from medicine at Melbourne University in 1922, around the same time as Dr Hallows.
At the time of transfer the practice was considered to be in Ormond and could be reached by dialling UL4673, which denoted the service area and telephone exchange to connect to in that time.
1953
8 years later, North Road Medical was transferred from Dr James Gibson to Dr Jake Arundell.
Dr Jake Arundell (1924-1983) graduated Medical School in 1946 and worked in general practice at Collins St before succeeding Dr Gibson as the practice principal in April 1953.
Dr Arundell was soon joined by Dr Marius Griffin (1924-1989) at 409 North Road, who commenced his medical studies as a returned serviceman after the Second World War.
They both worked in the clinic until 1981.
Dr Marius Griffin
Dr Marius Griffin was a celebrated recipient of the Margaret Ryan Scholarship in medicine in 1951, which was given under the aegis of the college.
The achievement included Dr Griffin being awarded and presented with a gold medal.
Pictured below is Dr Marius Griffin and the Margaret Ryan Scholarship medal-

1979-1981
In 1979 Dr Patrick Casey, joined the practice and became a partner in 1981. He was joined in 1980 Dr Michael Irlicht who worked at North Road Medical for 20 years.
2017
Dr Patrick Casey retired in 2017 after serving the community for almost 40 years as a general practitioner at North Road Medical.
2020- North Road Medical Today
Today, North Road Medical is led by our current directors, Dr Noelene Jacka and Dr Daniel Mann-Segal, who have been in the practice since 1998 and 2006 respectively.
We are proud to acknowledge the contribution of Dr Elizabeth Gass who served our community as a general practitioner from 1993 to 2013. 
We are also delighted to work together in a team of experienced and knowledgeable family physicians who provide expert and compassionate care to our patients.
Our GP team is served by-
Dr Lynette Hatherley joined in December 2007.
Dr Yulya Gorovy joined in November 2009.
Dr Millie Leykin joined in August 2012.
Dr Sam Ghosal joined in May 2017.
Dr John Spilberg joined in October 2018.
Our practice nurse Linda Gore joined us in September 2008, our 2nd practice nurse Nurit Tatarsky joined the practice in September 2012. Together they provide a comprehensive service which encompasses, chronic disease, immunizations and wound care.
Our GPs and nurses are supported by our admin team led by our Practice Manager Rebecca Laver and the rest of the admin team that includes Melissa Sowerbutts, Ashlee Marguglio, Emma Greetham and Timna Gore.
Together we are North Road Medical.
Make An Appointment
Call 03 9576 9311